Vinho Regional Lisboa
Quinta do Monte D'Oiro
Alenquer, Portugal
About
An avid fan of the wines from Côtes du Rhône and passionate about food & wine, José Bento dos Santos was the president of the International Academy of Gastronomy and is member of Les Psychologies du Goût. Since 2012, José has begun to hand over the winery to the next generation; with his son Francisco taking the management lead of the winery.
The vineyards are certified organic, with abundant grasses, herbs and legumes planted between the vines to encourage competition and biodiversity in the vineyard. No chemical herbicides or pesticides are used and the soils are worked and ploughed to avoid compaction and maximise oxygen content
The grapes are harvested by hand from several individual parcels of Syrah. There is a strict selection process, followed by destemming with no crushing. Fermentation occurs in stainless steel temperature controlled vats followed by ageing for 16 months in 2nd year French oak barrels.
The vineyards are certified organic, with abundant grasses, herbs and legumes planted between the vines to encourage competition and biodiversity in the vineyard Quinta do Monte D'Oiro
Portugal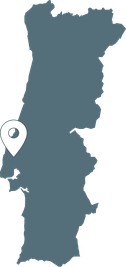 Location

Alenquer, Portugal

Primary Appelation

Lisboa

Company

Quinta do Monte d'Oiro

Winemakers

Graça Gonçalves, advised by Grégory Viennois

Varieties

Syrah, Touriga Nacional, Tinta Roriz, Petit Verdot for the reds
Viognier, Arinto and Marsanne for the whites

Area

29Ha

Age of Vines

25 years

Atlantic

Vineyard located 20km away from the sea, very strong Atlantic influence, permanently blowing wind coming from the ocean

Farming

Organic Farming (100% of the vineyard certified - PT-BIO-08)