Douro
Quinta Maria Izabel
Douro, Portugal
About
We are a team and we are a family. The work is hard, we don't deny it, but it gives us pleasure. We take care of the vineyards the whole day with a single goal in mind: to make the best wine of the best region in the world.
Quinta Maria Izabel is situated in the centre of the Douro region, with slopes of schist at the centre of the wind rose. In this are we cultivate vineyards which traditionally produce great Porto and red wines. It is also here that we develop ideas and consolidate new concepts.
The vineyards curving the river grow and shape their genius for 80 years. The personalities composing this orchestra go from, in the white varieties, Viosinho, Rabigato, Códega do Larinho and Gewurztraminer, all four years old, to the lady of these terraces – Vinhas Velhas – with 80 years. In the red varieties, the Portuguese blood is the winner, with names such as Touriga Nacional, Touriga Franca and Barroca, Tinta Roriz, Tinta Amarela, Tinta Francisca Tinto Cão, Sousão and, to top it up, Mistura Tinto.
"Like a child who thrives, wine needs to be listened to and understood.
It needs a good father who lets him be what it needs to be."
Dirk Niepoort | Oenology
Portugal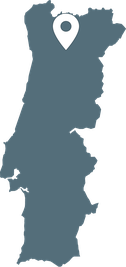 Location

Douro, Portugal

Primary Appelation

Douro

Company

Grupo JCPM

CEO & Mentor

João Carlos Paes Mendonça

Oenology

Dirk Niepoort

Varieties

Touriga Nacional, Touriga Franca and Barroca, Tinta Roriz, Tinta Amarela, Tinta Francisca Tinto Cão, Sousão

Area

130Ha

Vineyards

7 - 80 years