Douro
Quinta da Roga Grande
Douro, Portugal
About
The Estate, named Quinta da Roga Grande is compromised of 3 planted Hectares on a hillside slope facing the Douro River. The vineyard was newly replanted in 2015 with the highest vine density in the appellation at 7,700 vines per hectare. The soil is compromised mainly of schist. Currently available are a 100% Touriga Nacional Rose and a Touriga Nacional, Touriga Franca and Sousa Red Blend.
Mafalda Magalhaes purchased Quinta da Roga in 2014 and began planting in 2015 after her return back to Portugal from her 10 years abroad in Argentina. While in Argentina she worked for and alongside Paul Hobbs and Michel Rolland and consulted various wineries in Mendoza.
Mafalda comes from a family of winemakers and her father, Nuno Magalhaes is recognized as the father of viticulture in the Douro; having written the book that is widely used in Universities and also having planted some of the most historic and prestigious vineyards in the appellation. This father/daughter team have worked hand in hand together on this personal project and expect the wines and vision to speak for itself and come to fruition in the coming years.
"I was able to recreate a new vineyard, in traditional molds, recovering old wedges supported by pre-phylloxeric walls with high planting density"
Mafalda Magalhães
Portugal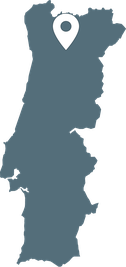 Location

Douro, Portugal

Primary Appelation

Douro

Company

Quinta da Roga Grande

Winemaker

Mafalda Magalhães

Varieties

Touriga Nacional, Touriga Franca, Sousão (red) and Viosinho and Arinto (white)