Alentejo
Adega Monte Branco
Estremoz, Portugal
About
Born and raised in the Alentejo, Luís developed a strong connection to the land from an early age. After completing his studies and an internship in Sonoma County, it was at the age of 23 that Luís decided to start his own project. In 2004, he became the vintner of Adega do Monte Branco.
Two different terroirs
In a total of 48 hectares of vineyards, the soils mark the profile of our wines. Limestone soils are deeper and more fertile, originating grapes with greater balance and freshness, combining with schist soils, poor and austere lands, source of concentration and minerality. Each has its own expression, together they complement in every wine of Adega do Monte Branco.
Winery
Adega do Monte Branco is perfectly framed by the surrounding Alentejo landscape. The main building contrasts with an old windmill, creating harmony between the past and the present. The winery was built to be both sustainable and efficient.
Alentejo region
One of the largest wine regions of Portugal, with about 3000 hours of sunshine per year, the Alentejo region has ideal conditions for the perfect ripening of the grapes. Alentejo's winemaking tradition dates back to Roman times, around 31 B.C. Since 1980 an intense modernisation resulted in the international recognition.
Estremoz microclimate
Estremoz is known for the whiteness of its houses, the quality of the local marble stone, and its rich gastronomy, where the wines stand out. Estremoz has a more moderate climate and diverse soils, featuring calcareous and schist. These particular conditions are reflected in balanced, fresh and elegant wines.
"Without any ideas or fixed vines, we look for terroirs that express something special."
Luís Louro
Portugal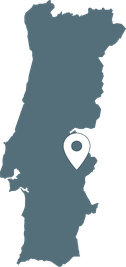 Location

Estremoz, Portugal

Primary Appelation

Alentejo

Company

Adega Monte Branco

Winemaker

Luís Louro

Area

48 ha

Elevation

360m - 430m

Farming

Sustainable

Varieties - Red

Trincadeira, Alicante Bouschet,
Tinta Miuda, Aragonez, Castelão,
Touriga Nacional, Syrah, Sousão

Varieties - White

White - Arinto, Roupeiro,
Antão Vaz, Esgana Cão,
Rabigato, Galego Dourado