Vinho Verde - Dão - Douro
J.Cabral Almeida
Amarante, Portugal
About
Wine has always been in his blood. His grandparents were producers and his older brother was a winemaker. Perhaps, even before he knew it, his destiny as an oenologist and wine producer had already been mapped out for him. 
Both his maternal and paternal grandparents were producers in the Dão, Douro and Vinhos Verdes regions. From an early age João Cabral Almeida was involved with wine and the world of wine. In his family of eight siblings, five are working in the wine sector. His destiny in wine turned out to be a natural choice, decided by taste and not by any kind of imposition. He studied Agronomy at the ISA, knowing that oenology and viticulture would be his future.
During his academic career, he carried out grape picking in various parts of the country and the world, having his brothers as advisors in projects referred by the brothers. He went through Esporão, Taylors, Sogrape, Symington, among others. Passing through Argentina, among other wine regions.
In his early professional career he tried to work with the best mentors, whom João Cabral de Almeida considered to be a reference. But Anselmo Mendes was one of the people who had most influence on his career, and with him he gained a global vision of the wine sector. Despite working with these oenologists of reference, he started to rehearse and experiment with some ideas early on.
In the meantime, he has started to follow his own path between consultancies in projects that he likes and also developing his personal projects. He divides his time between Vinho Verde, never leaving the Douro, now added to his personal project Omnia, and returning to the Dão, where he lived until he was 17. It is here that he teaches viticulture and develops his projects Musgo and Liquen.
João Cabral de Almeida lives the world of wine with great passion, despite the tremendous demands he makes. He is one of those winemakers that gives his face for his wines, where travelling is a constant.
He is one of those who believes that Portugal has many good things and there is much to do and explore, which is what he does, taking inspiration from examples of resilience and notoriety such as Burgundy and Saint-Émilion.
His most recent projects are in the Dão region where he works in some sub-regions, focusing on Silgueiros and Serra da Estrela, although a bit all over the region. He has been doing trials for a few years with plots of 40 years old on average, with a set of rare grape varieties alongside others that are better known. Working with old and mixed vineyards is always a constant challenge, every year deciding the harvest date, what to pick and how to vinify. He observes and interprets nature and, without a recipe, looks for the right vinification with the aim of bottling the place of origin. He loves the sense of minerality in the almost saline tones of the wines due to the influence of granite.
Moss and Lichen are the names of these wines. The names are somewhat peculiar, but they have a meaning very much linked to the region. Moss is something that marks the Dão landscape a lot, as it is an area with many areas where there is some humidity and freshness. It is also a descriptor that has always been used when tasting the region's wines. Lichen, on the other hand, means the symbiosis between fungus and an algae which appears in places without pollution and with this name, João Cabral de Almeida intends to reproduce the notion of purity of the wine.
Both are wines of pure expression of the region, with little intervention, the Moss as a messenger of the tradition of the mixture of vines and castes and the Lichen the purity and identity of a cast in a specific place.
The Omnia, from the Douro, comes from a low altitude plot, but it boasts, in itself, a natural freshness and great finesse, with a strong identity of the plot, which produces very little.
João Cabral de Almeida, smiles, his eyes sparkle, he is sure that he is finally bringing to the market the wines that he aspired to make.
"Without any ideas or fixed vines, we look for terroirs that express something special."
João Almeida Cabral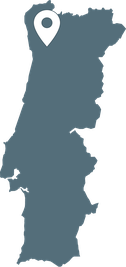 Location

North, Portugal

Primary Appelation

Vinho Verde & Dão

Company

João Cabral Almeida Vinhos, Unip. Lda

Winemaker

J. Cabral Almeida

Farming

Sustainable

Varieties

Loureiro, Alvarinho, Encruzado, Alfrocheiro
Downloads
Producer Info
Tech Sheet